2D Animation:
Julien Becquer
3D Animation:
Julien Becquer, Florian Mounie, Marylou Mao
CG Generalists:
Denis Bodart, Olivier Pirard, Oguz Birgoren,
Victori Jalabert, Mark Mullan
VR Previsualization:
Alice Janne
– Print Campaign
Retouch:
Denis Bodart, Mark Mullan
THE BRIEF
It was one of those phone calls. You know, the kind where your friend says "Hey man, I'm building a giant cake that needs to spin at 80rpm and showcase 150 years of Sainsbury's history. And I need your help! Oh, and we also need to design and animate 14 unique characters, too. K bye."
I suppose you could say that's a phone call we've been waiting for our whole lives.
Thus began our collaboration with Noah Harris, master of mixed-media storytelling, in his ambitious and touching celebration of Sainsbury's century-and-a-half legacy. We're very proud of our work with Noah, his amazing production company Agile Films, as well as Wieden+Kennedy, London, who were an absolute dream to work with.
A ZOETROPE?
Exactly. As in, a super early animation experiment that simulates motion from a series of still images. You've probably seen those B&W Muybridge motion studies. Ground-breaking stuff, folks.
For the etymologists out there: from the Greek (obvi) zoe = life, tropos = turning.
THE CHARACTERS
Speaking of ground-breaking, that's where the Sainsbury's story begins, too. It all started when John James and Mary Ann decided to make butter. Clean and safe butter, without families worrying about getting sick. Legends.
We used period photographs as reference, but the Edwardian style for portrait photography was… a little stiff. So it was really helpful that W+K chose to highlight this origin story moment for Sainsbury's. It gave us this cool point in history to begin our enormous design challenge. Keep in mind that everything needed to appear as if crafted from icing sugar! It's going on a cake, after all.
We started with 2D pencil explorations beginning with Mr Sainsbury. Here you can see some interesting ideas that led us to the final designs.
Additional characters like the disabled child and his best friend, the Comic Relief Bean lady and the WW1 soldiers each represent other pivotal moments for the company. Some are even based on real-life employees. You can see them in the full ad.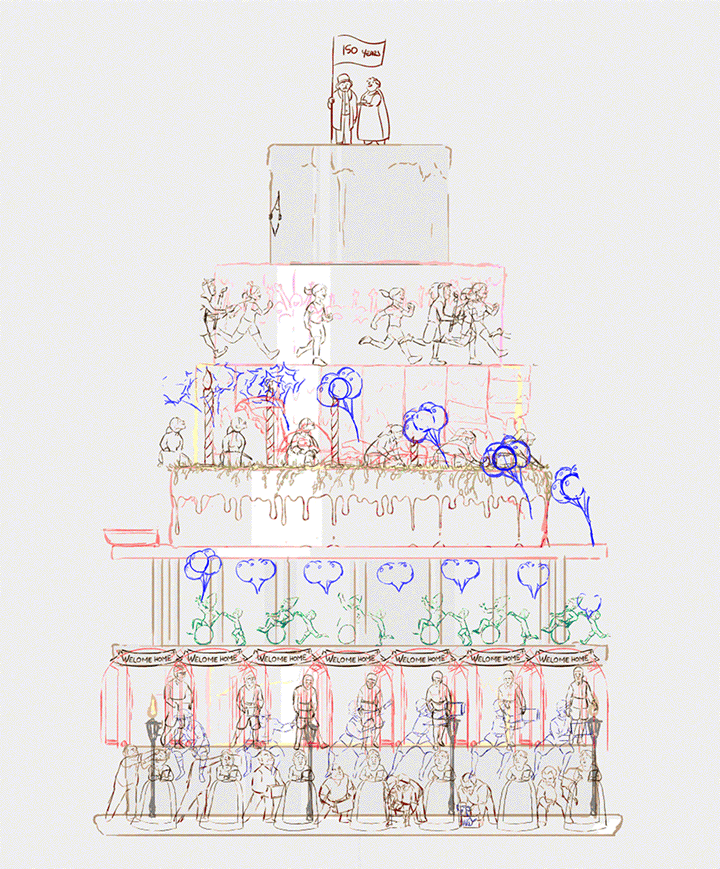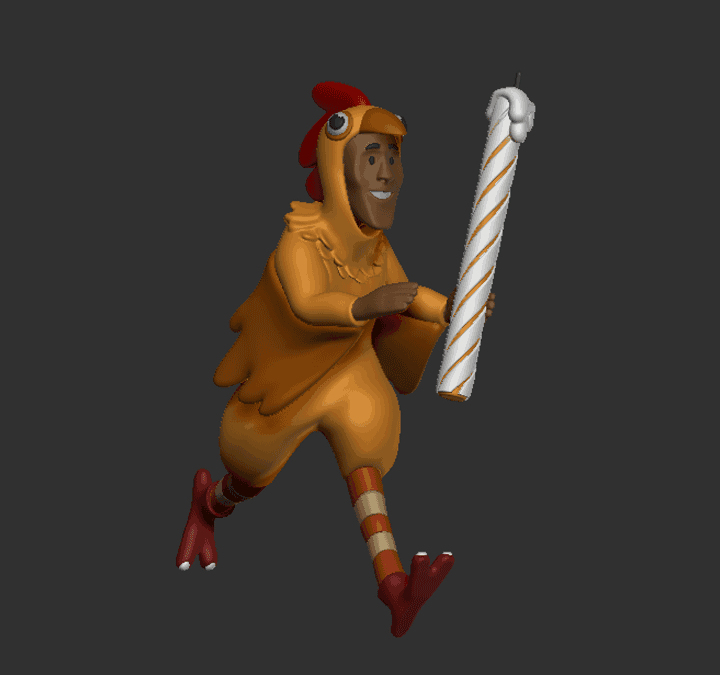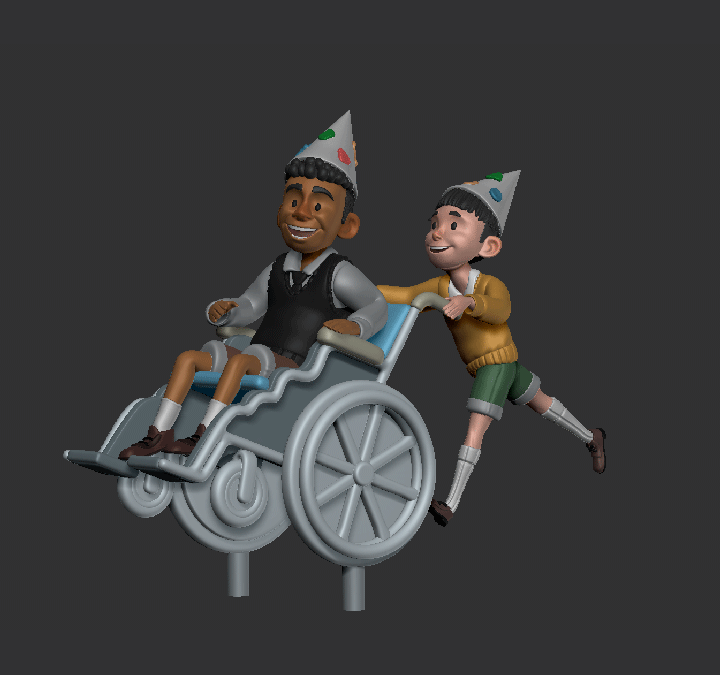 THE CAKE IN VR
This cake is massive. Seriously, it measures over a metre wide and stands about 1.5 metres tall. And yeah, it spins at 80 rpm. So cool.
If you ever get a chance to design something with Noah Harris, do it! He had this amazing ideas and reference for what he wanted.
Initially, we didn't set out to create a VR version. But it soon became obvious this would be the only way to truly understand how all these moving parts come together. Nine layers with fourteen characters animating independently. The production designers, set builders, 3D printers, agency, client, our animators… basically everyone involved used our pre-visualisation to make important decisions affecting their own process.
All the animation began in 2D. We are really fast at this and used it to gain consensus across a lot of departments. We overlapped this with 3D modelling and good-old-fashioned R&D. Every new character, every animation pass - even new ideas would work their way to the cake after sign off.
Quite quickly Noah, Wieden+Kennedy and the Sainsbury's clients themselves began commenting on the cake in VR. Each visit to our studio started and ended with a virtual spin around the cake. The irony wasn't lost that a project celebrating so much history was made achievable in no small way by bleeding edge technology.